SVG Vector QR Code Generator
Create a transparent, scaleable QR Code in printable vector format and download as svg file.
| | |
| --- | --- |
| | When using a link in a QR Code always write http:// or https:// before the URL. In some QR Code Readers the QR Code will not open the URL in the browser, if there is no protocol. |
X

X

Create a QR Code that does a device depending redirect. For example: If you have an App in the Apple and Google Play Store you need just one QR Code. Users with an iPhone or iPad get redirected to the Apple Store and Android devices to the Google Play Store by scanning the same QR Code.
X

Use our Mobile Coupon Generator
Create a mobile coupon for your customers. They can show the coupon in your shop to get a free drink or a discount on their purchase. The coupon is shown on the mobile phone's browser, you don't need an extra app.
Mobile Coupons
X

Caution: vCard QR Codes have limited space and they are static
Instead using a static vCard create a free Mobile Business Card. You can add unlimited details like your logo, links to your social networks, YouTube videos and much more. And mobile business cards are dynamic - when you change your contact information, you don't have to print your QR Code again.
Create QR Code Business Card
X

Digital Business Cards for Agents
Create a digital business card for real estate agents. On top of your contact data you can add your logo, links to your social networks, YouTube videos and much more.
QR Code Business Cards
X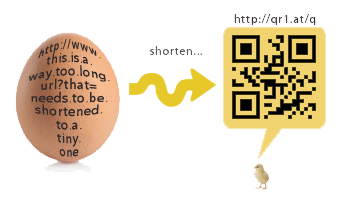 We can shorten and track URLs too!
You can create trackable QR Codes on our platform that will automatically shorten your target URL. Moreover you can track who, where and when your QR Codes have been scanned.
Register free account

Geo-Targeting
When you are a multi-national corporation, you may want to deliver different content to specific countries. With Geo-targeting you can create QR Codes with Multi-URLs that redirect the user to a specific website depending from which country he is scanning the QR Code.