Free Designer QR Code with Logo
Create free QR codes with unique designs
Free QR Code Generator with logo - endless possibilities...
You can easily create a Designer QR Code with your logo. You don't need any photo editing software or any programming skills. Just select your colors and upload a logo.
Your logo will be automatically centered in the biggest possible size in the QR Code. However please always test your QR Code for readability before going in production.
Embed your logo
Select colors, gradients and shapes
Download vector formats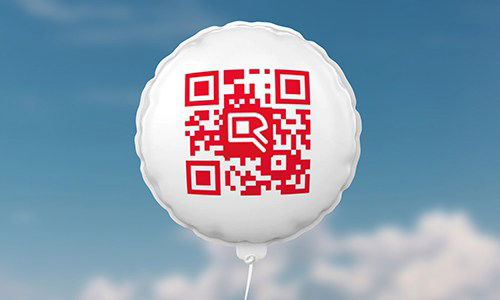 Basic
QR Code
You can choose between three different QR Code design types. In the basic version, you can specify fore­ground and background color, as well as embed a logo into the QR code. This is the best and most secure way to use QR Codes. Simple QR Codes ensure readability by any QR Code Reader and provide Error Correction in case the QR Code gets damaged.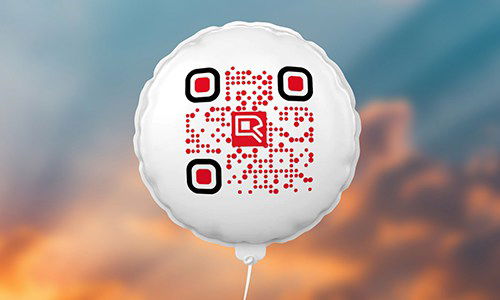 Designer QR Code
The custom design version allows you to change the squares in the QR Code with your own custom body, eye and eyeball shapes. You can define different color settings as well as color gradients and embed your logo as well. Please do extensive scan tests, since there might be readability problems with your QR code scanner or device.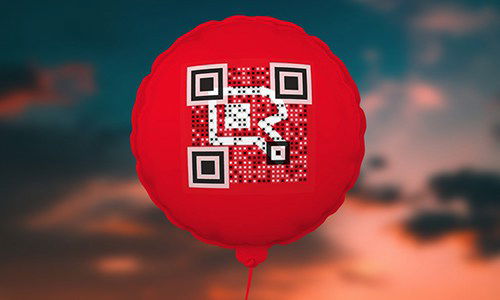 Transparent QR Codes
With the Transparent QR code function, you can upload any background image and the QR code adapts perfectly to the background by creating transparent pixels. Your QR code image is created. Those QR Codes have a high readability as well. Click on the QR codes above to experiment with your own designed QR codes.
What is a designer QR Code?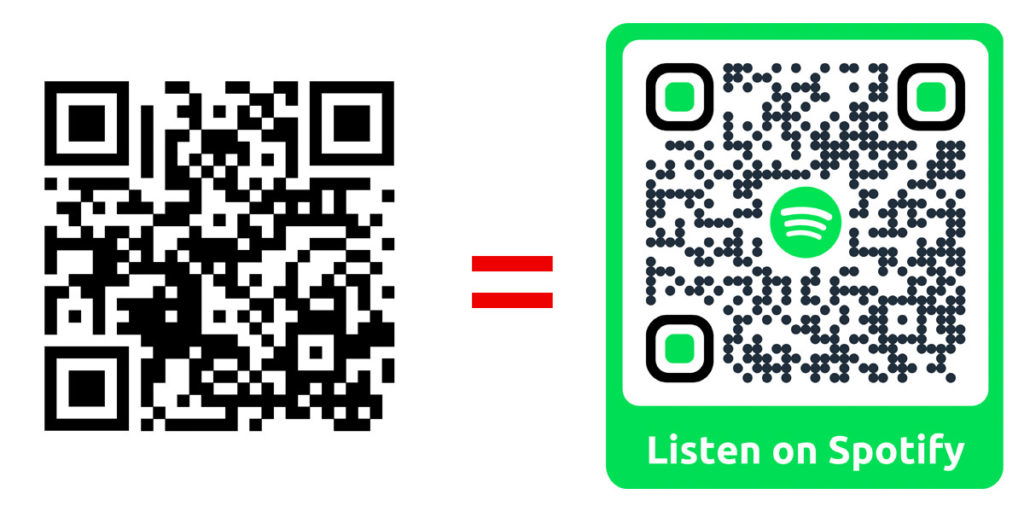 A Designer QR Code is a uniquely customized and branded QR Code. With design options such as colours, patterns, backgrounds, logos and call-to-action frames, you can customize a standout QR Code that represents a brand, campaign or information type.
Designer QR Codes are made to help add value to any marketing campaign, improve brand recall and gain interest. Marketing and advertising agents around the world are now creating custom QR Codes for their cam­paigns and it's become a growing trend that is not showing any signs of slowing down.
QR Codes are great marketing tools and can be used to direct customers to your landing page, encourage them to download apps or send them directly to your online store. A designer QR Code can attract more scans than a plain black-and-white QR Code.
Why do you need a designer QR Code?
A simple question like this has a simple answer: to create the right kind of interest in whatever business, event or campaign you're running. Your goals could be to create a branded code that uses your company logo or has a unique theme. There are so many possibilities and thankfully this is your guide for everything you need to know about creating a stellar, eye catching yet functional custom QR Code Design.
In addition to QR Codes with logo, you can also create a variety of other customized QR Codes. Suitable for your needs and business strategies. Create free QR Codes for your email, business card, website URL, brand and many more. Additionally, you can use the bulk QR code generator to create multiple QR codes at once.
Dynamic QR Codes and Static QR Codes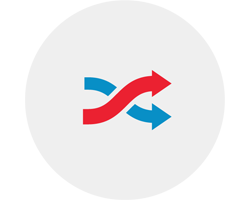 With our QR Code Generator you can create a dynamic QR Code as well as a static QR Code. With a static QR code you have no expiration date.
So the QR code will work as long the target url is online. However, you cannot change the content of a static QR code after creation.
How can you customize your QR Code?
Use Colors

You can do away with the standard black and white QR Code designs. They get the job done but they hardly make a splash anymore, especially with QR Codes becoming such a ubiquitous part of our everyday lives. People often make an assessment on a product that is based on
colour, so it's important to use this to your advantage. Adding some color is the simplest way to make a QR Code interesting and grab the attention of a consumer. You can use the colors of your brand campaign or color code certain elements such as the "eyes" – the markers
that specify the direction the code is printed. There are many possibilities and you don't have to choose just one color for your QR Code. You can play around with the color tab and change colours of the position markers (eyes), use gradients and create fancy multi-color QR Codes.
Provide enough contrast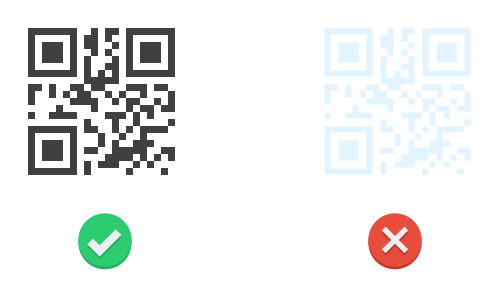 For coloured QR Codes, choose colours for your foreground and background that contrast with each other. A lot of QR reader apps have a hard time reading codes
that are too monochromatic or faded. Some colours might vary after printing as well. Pastel hues can come out lighter than they look on screen.
Always pick colours that are distinctly contrasting to make sure your QR Code is scannable.
Be careful with the background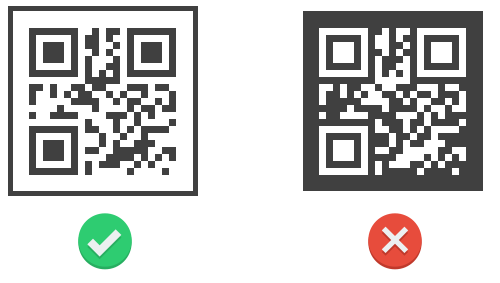 When the background of a QR Code is darker than the foreground, it's referred to as an inverted code. While some scanners are able to read an inverted code,
there are apps that are unable to scan them. The same applies to transparent back­grounds. If you print your QR Code on a dark poster test the readability of the QR Code.
We recommend to stick with lighter colours for the background and dark colours in the foreground. If you decide to use an inverted code, ensure it's still scannable.
Embed Images or Logos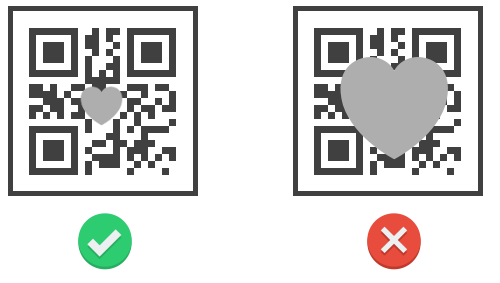 A great way to grab your audience's attention is to place an image or a logo in the centre of your QR Code. You can use a simple phrase such as "scan me" or a business logo. Graphics and illustrations work better, as anything more detailed can distort and blur once printed.
Your image needs to be placed in the centre of the code to avoid blocking any elements which are important to the code's ability to be scanned. Your image or logo should enhance your code and serve as a purpose to advertise your brand, campaign, QR Code direction or a call-to-action.
The logo should be centered in the QR Code, do not overlap the markers/eyes and may take up to 30% of the surface when selecting level H for error correction. In any case, we recommend running tests with different devices and QR Code readers once you decide what design you are going to use.
Reshape the QR Code

You can get creative and redesign the edges of your QR Code slightly by choosing a different shape for the markers. This is a subtle change,
but one that can make your QR Code stand out and look more unique. The edges of your QR Code shouldn't be completely reshaped.
When you have a look at the design tab of the QR Code Generator above, you can get an idea of the different ways you can reshape the markers.

Extreme changes can move away from the QR Codes overall shape which could make it unscannable and unreadable.
This means it won't get as many scans. The same applies to the marker center and border.
Any forms can be used, but please always test whether the combination is legible.
Put a Call-to-action under the QR Code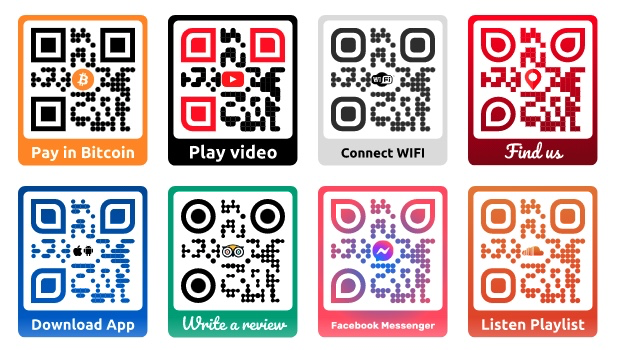 A QR Code on its own doesn't do much. It will sit there just waiting for your customers to take action and scan it. You can help to initiate this by telling them exactly what to
do and what to expect when they scan your QR Code. The call-to-action can be in the centre of the code as an image or around it if there is already a logo in the middle.
Your call-to-action should be engaging and informative as well. Something such as "Connect to Wi-Fi" or "Scan to pay" clearly explains what the QR Code is there for.
Tips for printing your QR Code
Make it stand out
There are many factors to consider when designing your QR Code, not just for aesthetic reasons but practical ones too. If you're printing your QR Code it needs to be big enough and clear enough. If it's not designed properly, it can blur or distort when printed.
You also want your code to stand out on the page it's intended for. If your QR Code has important information your customers need to know, having it tucked in the back corner of a broacher will pretty much ensure that nobody will scan it. A code that is too small can also be unreadable.
To increase visibility and the chances of it getting more scans, place your QR Code in the centre of your layout for accessibility and make it as big as possible. Grabbing the customers attention should be your main priority.
CMYK and RGB color spaces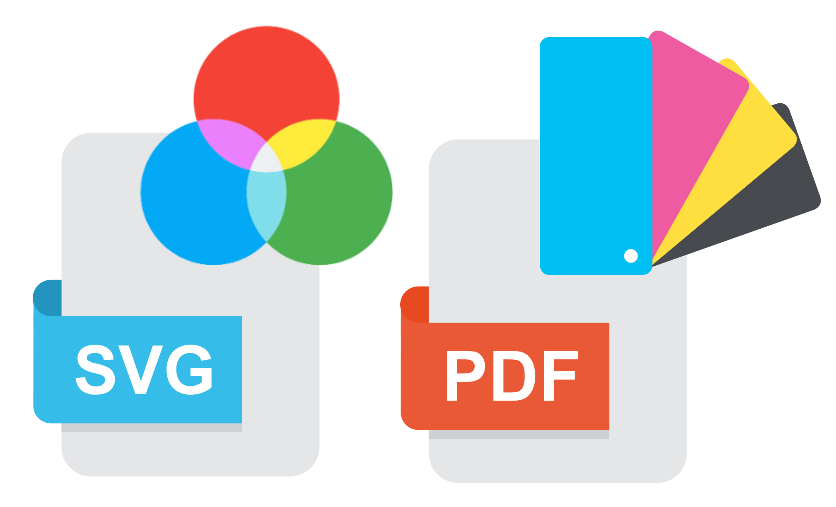 When you generate a QR code, it is rendered on the screen in the RGB color model by default. The RGB model is used in QR Codes downloaded as PNG, SVG or PDF files.
For professional offset printing of QR Codes, we recommend the CMYK color model. When you download a QR Code in PDF format, you can choose the CMYK color space.
This way you can be sure that the colors look exactly as they have been defined in the CMYK color space and that there are no nasty surprises when you print the QR code.
Mind the quiet zone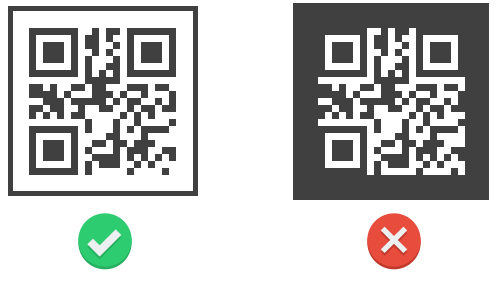 The "quiet zone" refers to the space around the QR Code that enables scanners to differentiate between the code and its surroundings. If the distance between the pixels and the surrounding elements is too small, it will be harder to scan.
The general rule is to have a quiet zone that is about four times the width of the black pixels of your QR Code. It's important to note that when you input a lot of information into a code the pixels get smaller and more
complex in order to accommodate for the amount of data. When this occurs, people often make the mistake of reducing the quiet zone perimeter to compensate. This is something you don't want to do.
Test run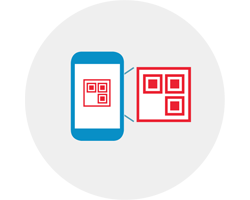 With all codes it's good practice to test whether it works or not. If you are printing out your QR Code, don't get ahead of yourself and assume the code will work because it looks clear on the screen.
It might look great on your phone or computer, but if it hasn't been designed with the right size recommendations, when printed it might come out blurry. If you use QR Codes to be displayed on screen use the webformat png, if you print QR Codes always use vector formats like pdf, eps or svg.
Vector formats ensure that the QR Codes scales as big or as small you want without getting blured. Print out a test version and see if it scans easily using your phone's camera or a QR Code reader app.
Hot Designer QR Codes with vectorized Logo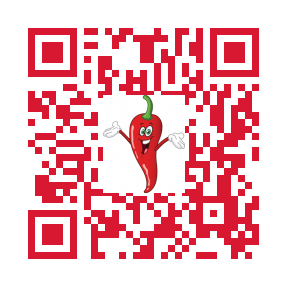 Raster- versus Vector
Many QR Code Generators allow to change the colors or embed a logo in a Designer QR Code. However, there are only a few generators that allow you to upload vectorized image in .svg format
in addition to the standard rasterized formats like .png, .jpg or .gif. If you print a QR Code in different sizes, the code and the logo will get blurred, pixelated and in the worst case unreadable.
With our QR Code Generator you can upload scalable vectorized images in .svg format that will stay crisp no matter in which size they are printed.