QR Code Business Cards
QR Code Business Cards Generator
Create your virtual business card and share it easily via QR Code or through NFC. Print the QR Code of your digital business card on your paper business cards. Your customers and business partners can access your contact details & further information with just one scan.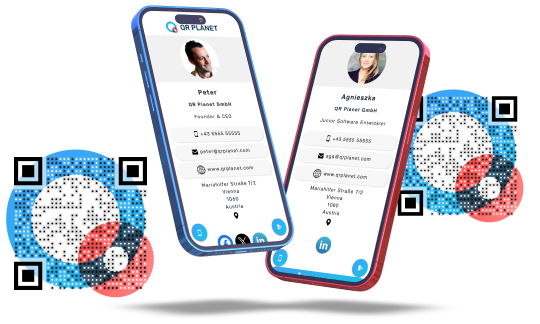 Create free QR Code Business Card

Mobile and desktop friendly
Create a mobile-friendly website for your business or private use optimized for Smartphones in just a few simple steps.Provide your contact details as a digital business card and include your links to the most important social networks.

With Designer QR Code
Your digital business card editor includes a Designer QR Code. Add your logo, use your color scheme and brand it so your friends and business partners will scan your QR Codes on a fully branded design materials..

Always up-to-date
Did you move or did your mobile number change? Have you created a new Facebook page? No problem. You always have full control over your business data and you can edit anytime or add new contact information.
What is a QR Code Business Card or Digital Business Card?
A digital business card is a landing page that contains your data and business information. You can quickly and easily share this data through a QR Code scan. The dynamic QR code makes it possible that you can change all your date, without changing the QR Code.
However, with digital business cards, in addition to the standard information (name, address, phone number, etc.), you can also include interactive media. Embed a YouTube video, a link for a website, virtual events, or your social media accounts like Instagram or Twitter.
Enterprise solutions
If you are looking for an enterprise solution to create business cards for all your employees, you might have a look at our white label solution where you can automatically import all contacts and set your own custom domain. So, if someone scans your QR Code, the user will see your company url instead of QR Planet

Add to contacts
Click on the "Add to contacts" button to add the information to the address book of your smartphone.

Share it anywhere
Share your contact through a QR Code, e-mail signature, social networks or send your vCard via email.

Navigate to Address
Easily locate in a map the address of a business card. Launch your Maps application and see how to arrive.

Social Networks
Link to your professional and social media profiles and add buttons to your digital business card.

Call-to-Action Buttons
Create buttons with any action you can think of. Document downloads, direct calls, e-mail links.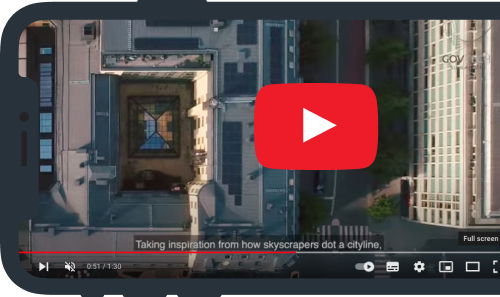 Embed Multimedia
By using a dynamic QR code, you can have your business card link directly to multimedia content, such as YouTube videos, images, or Spotify playlists.
CCPA & GDPR Ready

Our Solutions and Landing Pages are prepared for your campaigns to strictly comply with the CCPA and GDPR. We do not process or store personal data without the user's consent and you can define different levels of privacy and anonymization according to the regulatory framework of your market.
All our servers and datacenter are based in Viena (Austria).
Learn more...
Data Security
Protected from BOTs
We protect your data against bots, crawlers and spiders. When we detect that your mobile business card is crawled by an IP address from a bot network or from a dodgy user agent we secure your mobile number, Skype and email addresses from being exposed.
Hide from Search Engines
Moreover, you can choose, if you want to make your data available for search engines. All search engines who respect the noindex metadata attributes will not index on your mobile business card.

Custom Branding
Upload your own company logo and design the business card with your own CI and own typography. Embed any CSS code or Google Fonts.
Custom vanity URL, e.g. qr.company.com/john
Designer QR Code with logo
Custom domain

No QR Planet Branding
Our logo, shown in the footer of business cards, is removed in all paid plans.

Multilingual i18n Support
Display your digital business card in multiple languages. Provide a professional response to your international partners and customers..
Set browser dependent language and display the call to action buttons, texts and country names in the language of your visitor.

Templates
With your own CSS business card templates you can make your digital business cards even more individual. For a professional appearance.

Batch Contact Import
Use the batch import function to create mobile business cards or vCard QR Codes directly from an Excel file.
CSV Upload
Designer QR Code with logo
API

Multiple Addresses
Premium users can add multiple e-mails, addresses and phone numbers to a single mobile business card.
vCard 3.0 Standard compliant
Up to 3 different addresses
Direct link to Maps Application

Custom Call-2-Action Buttons
You can add custom call-2-action buttons to link to a web site, a PDF document, initiate a call or send an e-mail.

Custom Code & Widgets
You may also add your own JavaScript code or widgets like a live chat to your businesscard.
Analytics tracking codes
Livechat widgets
Retargeting pixels

Hints and ideas for QR Codes and digital business cards
Business cards are a very important part of networking and growing a contact list.If there was a way to increase the effectiveness of your business card and make it easier for others to store your information, learn more about your business, or access your social media profiles you would take advantage of it, right? Well, adding a QR Code to your business card can go a long way. Digital business cards can be a great addition to your marketing efforts!
Use in E-Mail Signature
All your contacts see your e-mail signature daily. Website footers and e-mail signatures can also contain your QR Code or the short URL of your business card landing page. Of course, it is both desktop and mobile friendly.

Business Card on Home Screen
You can also add your mobile business card on your home screen and open it by just tapping on the icon once. On an iPhone all you must do is tap on upload and select Add to Home Screen. Then you can set a name and voila the icon with your profile image shows up on your home screen. Use this short link to exchange your contact data quickly.

QR Code vCard on Lockscreen
If you do not have a business card in paper format, you can save the QR code as an image file on your lock screen. All you need to do is show your mobile phone display and the other person can then scan your contact information.

Digital Business Card Editor
On-line editor
Create and update the contents and design of your business card using your online editor. Upload your images and logos, fine-tune your design and keep your contact information up to date.
Live demo

Create digital business cards easy & for free

Create free QR Code Business Card
With our QR Code Generator you create your digital business card (QR Code business card) - fast, easy, free and optimized for smartphone. With electronic business cards you present your company professionally and enable quick sharing of your contact details.
Created in less than 5-minutes
Create your business card in less than five minutes. Just enter your data & upload your profile picture.
It's free
You can create one mobile business card for free. You don't need any programming skills.
FAQ
If my client saves my contact details in his phone and I change my phone number, will the new number be reflected in his phone?
No. Once your client saves your contact on his phone, your contact data is copied from your QR Code business card or vCard QR Code on his phone. The contact data is not linked or synced with your client's phone and therefore cannot be updated remotely.
If your contact data changes, for example you have a new number, the best way is to send the updated vCard to your clients in an e-mail. If you have QR Code Business Card you can simply click on Options and then vCard to download the updated contact.

Now you can send the downloaded vCard as an attachment in an e-mail or you can also send a direct link by right clicking on the vCard link shown below and copy the target URL.