QR Codes with scheduled redirects
2 Minutes
11/13/2022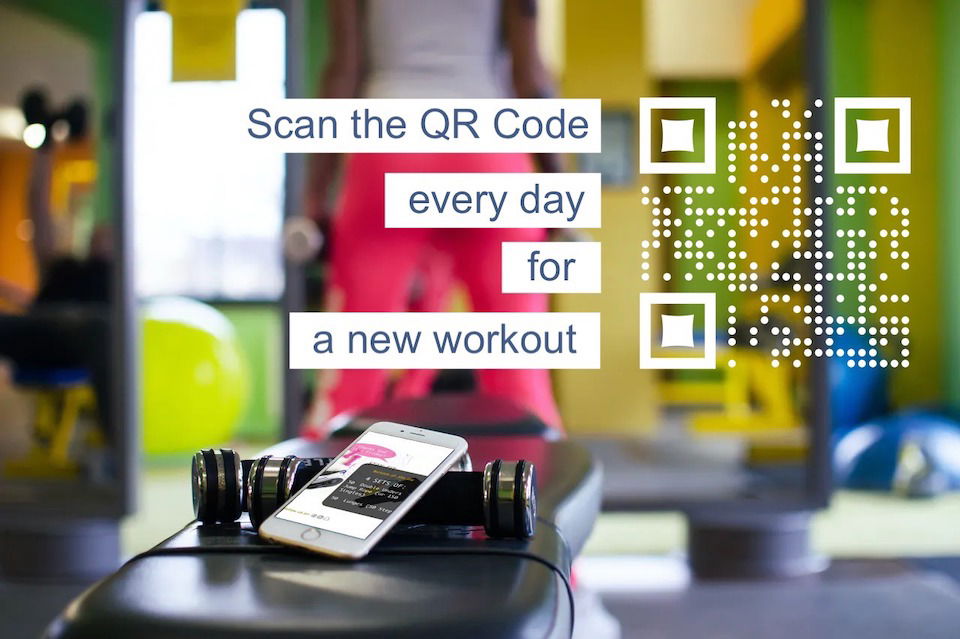 If a user scans a QR code for which scheduled redirects are stored, he will be redirected to a specific landing page or a PDF document depending on the time and day of the week.
We will show you how to do it with the help of a fitness studio campaign in which customers are shown a special Workout Of the Day with Crossfit exercises for every day.
This very simple, contactless and paper-saving solution is also suitable for all other creative campaigns that are to be activated for a certain period of time.
How do I create QR Codes with scheduled redirects?
1. Login to your account
Log into your account or create a new account. You can create scheduled QR Code in any of our plans.
2. Upload PDF files
Go to the Media area and upload all PDF files that you want to use for a scheduled redirection.
In addition to your main campaign, you can, for example, create separate workout of the day in PDF format for each weekday.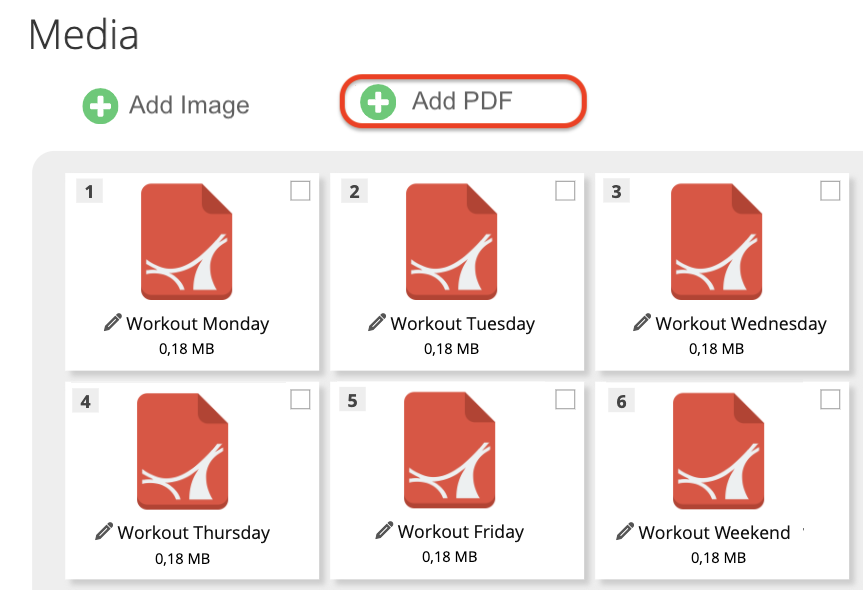 3. Create QR Codes
Now create a separate QR Code for each PDF workout. To do this, click on Create QR Code and then select PDF. If you click on Upload PDF, you can link an uploaded PDF file with the QR Code.
For each QR Code you can optionally also
define a name
add a description
upload a cover photo
choose between direct download and preview view
set the desired colors
assign a custom URL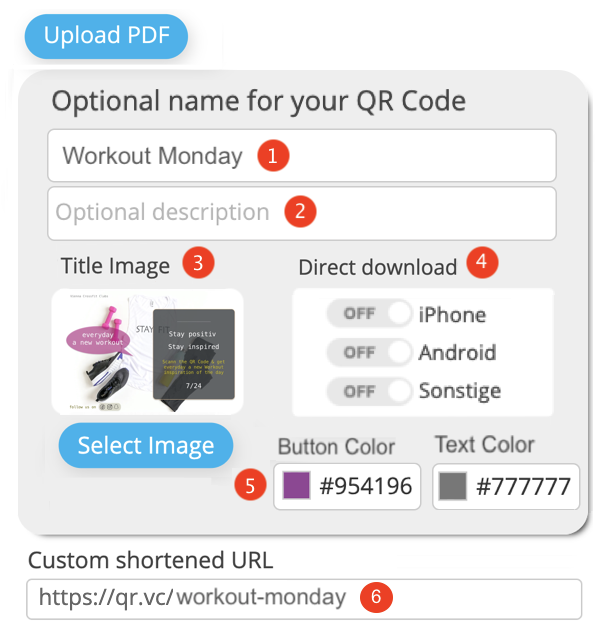 4. Activate redirections
After you have created all QR Codes, you can now activate redirections for your Main Menu Card by clicking on the Scheduler menu item under Options.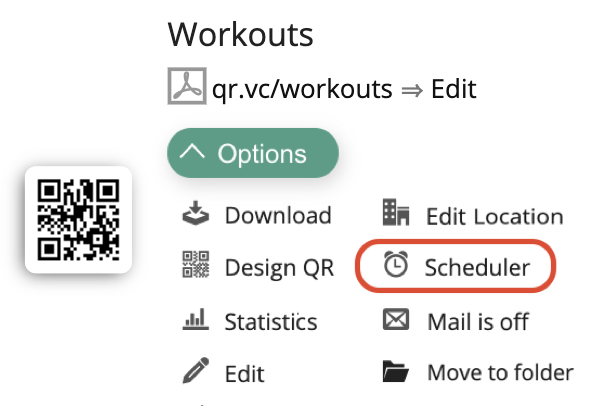 5. Turn on/off scheduled redirects
Activate the "Turn on/off scheduled redirects" switch and click on the tab Scheduled Redirection. To add a scheduled redirection for the QR Code click on the Plus symbol.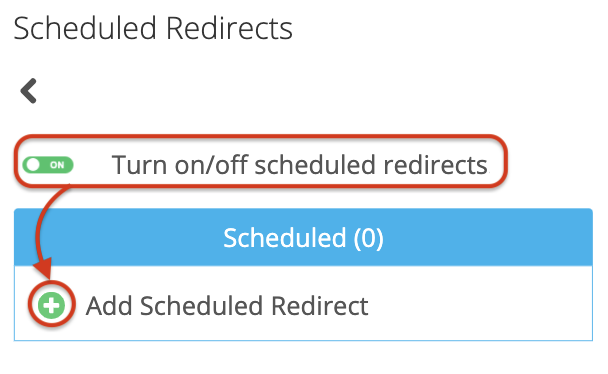 6. Create rule
Then copy the Custom shortened URL from a PDF QR Code that you specified in step 3 under point 6 and paste it as the Target URL for the Scheduled Redirect.
Select the date and time from which the desired workout should be displayed after scanning the QR code. Then click on Add Redirection to confirm your entry.
In the following screenshot, a redirection was created from Monday, February 15th to the Monday - Workout Of The Day.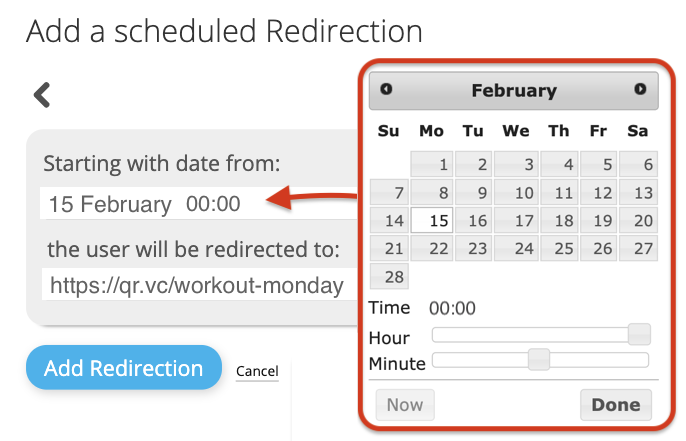 7. Repeat until all rules set
To also create scheduled redirects for the remaining workouts, repeat the process described above. You can add as many scheduled redirects as you want.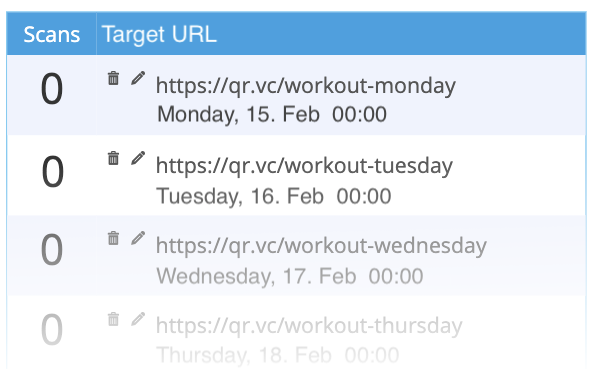 Frequently asked Questions
Do I have to use PDF QR Codes to create scheduled redirects?
No. You can also create a dynamic QR code and set up scheduled redirects for it, which link to any website.
What time is taken into account in the scheduled redirection process? For example, I'm based in Mexico, a different time zone than my customers are in.
In the scheduled redirection process, the user's time zone is taken into account, i.e. if a user scans a QR code with his smartphone at 3:30 p.m. local time, this time is used for the scheduled redirection.
Can I set a scheduled redirection to a Social QR Code, Digital Businesscard or a Coupon Landing Page?
Scheduled QR Code redirects cannot be added to landing pages. Instead, create a dynamic QR code with scheduled redirects to the respective landing pages.