On which medium are QR Codes printed the most?
2 Minutes
11/18/2022

QR Codes can now be found everywhere. In magazines, on posters or business cards, but also on exotic media like skin and hair. But on which medium are they most commonly used?
To answer this question, our QR Code Generator gives users the option of specifying any medium on which the QR Code is to be printed for each QR Code created. As a starting point, only QR Codes that were scanned at least one day after they were created were used, in order to exclude various scan tests by the creator of the QR Code. Furthermore, only QR Codes that have been scanned at least once by a mobile device are included (accesses from bots and desktop browsers are filtered). From 1,000 QR Codes created with an assigned medium, the following distribution results.
| Medium | % |
| --- | --- |
| 1. Magazine or newspaper | 21,29 |
| 2. Poster / Plakat | 21,03 |
| 3. Flyer | 19,37 |
| 4.Business card | 9,30 |
| 5. Brochure | 9,21 |
| 6. Product packaging | 6,08 |
| 7. Shop window | 2,35 |
| 8. Web page on a PC | 2,26 |
| 9. Book | 1,48 |
| 10. TV | 0,61 |
| other | 7,02 |
Media that are most often printed with QR Codes
Magazines, newspapers and posters
In newspapers and magazines, space is scarce and expensive; further information about an article is a real added value for the interested reader. For example, a QR Code can lead to a movie trailer or video that cannot be printed in a magazine.
Product packaging 
QR Codes on product packaging have higher scan counts, as they are often used to download instructions for use or reorder products online.
Business cards
One of the most common uses of QR Codes is to link to QR Code Business Cards. Contacts can be shared easily without the hassle of typing.
In general, we recommend placing QR Codes on media that are printed in large numbers. This increases the likelihood that a QR Code will be scanned if it is properly advertised and it is clear to the reader what added value the QR Code scan offers. If you are planning to print QR Codes in large quantities, please read on under Printing tips for QR codes.
Media on which QR Codes should NOT be printed
Hairstyle
Wearing QR Codes as a hairstyle is a nice gag, but it doesn't work. The head shape is too curved and the hair misplaces easily and the contrast with the scalp must be strong enough.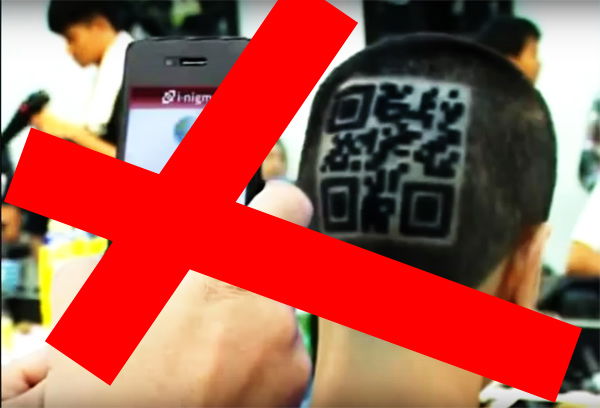 Skin
QR Codes on a stamp work on paper, but should never be applied to the skin; the stamp ink will run and the code will quickly become unreadable. The same applies to tattoos. Due to the elasticity of the skin, the QR Code is very easily distorted and thus no longer readable.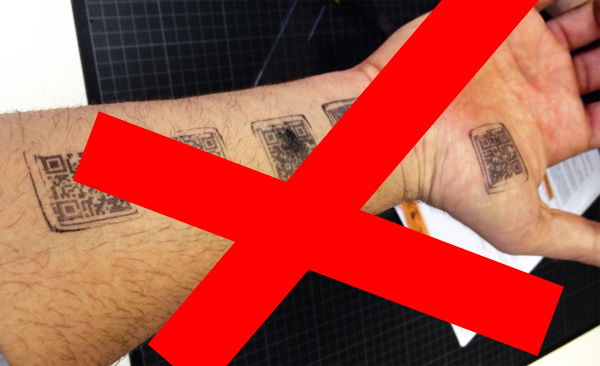 Displaying QR Codes on TV devices is also rather difficult. Until someone actually pulls out their smartphone, successful scanning is often very close for 15 second spots. In general, caution is advised with media that are easily wrinkled or curved (e.g. T-shirts, mugs, etc.), as readability could suffer.
Moving objects
We also recommend you not to print QR Codes on moving objects like car, buses, trucks, streetcars, etc. No one can scan a QR Code when the object is moving. Besides, this also poses a danger to traffic if the person scanning is distracted from what is happening. Also, conversely, no one will stop specifically in front of a parked car to scan a QR Code.