Multi-lingual PDF QR Code
2 Minutes
11/17/2022

Using the multilingual QR Code solution you can create a single QR Code that launches a different landing page or PDF file depending on the language of the user's device. This is a very powerful, contactless and paper-saving solution in contexts like restaurant menus, instruction manuals or touristic guides. 
How do I create a multi-language PDF QR Code?
1. Login to your account
Log in to your account. Multi-lingual QR Codes can be created in any plan.

2. Upload the PDF files
Go to your Media section and upload all the PDF files with the different languages you are going to use (Example: restaurant menus)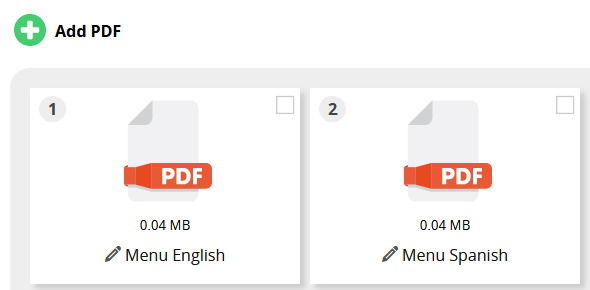 3. Create your PDF QR Codes
Create a PDF QR Code with each of the PDF files you uploaded on the previous step.

Go to QR Codes section and click on  Create QR Code and then select PDF. Now assign the PDF to each QR Code.
You can also add a name, title, description, a cover image, do some color touch ups, and set if you want the user to download the PDF directly or go through a preview presentation page.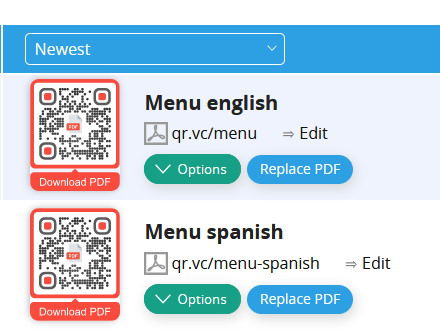 4. Create a multi-lingual QR Code
Once you have created all the PDF QR Codes you are ready to create the multilingual QR Code.
Click again on Create QR Code but now select Multi Language and create as many rules and languages you support.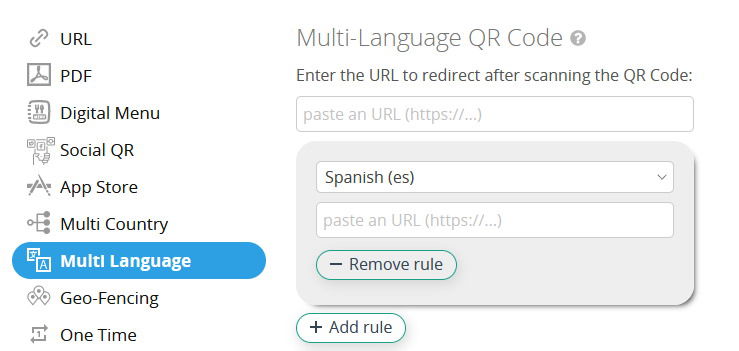 5. Assign each PDF to each language
Copy the vanity URL of each of the QR Codes you have created in the previous step to each of the language you are going to offer.
Remember that the first URL is the default one in case the browser of the user is requesting a language you do not have.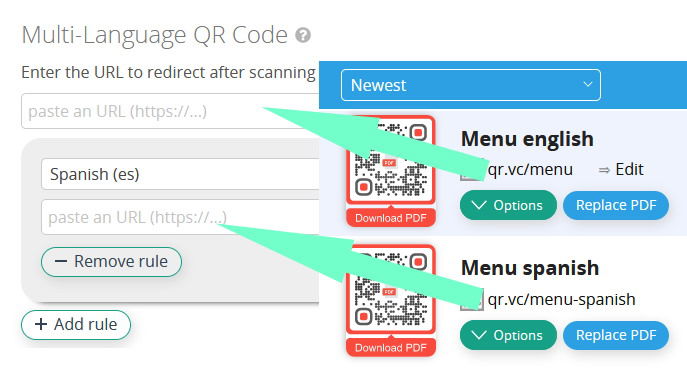 FAQ
Why is the QR Code is not redirecting to the right language?
A multilingual QR Code is using the primary locale send by the user's browser. Please make sure that the browser sends the desired locale. You can easily test the multilingual QR Code with your browser by changing the order of the installed languages.
To do so, go to your browser settings and search for languages. If the language you want to redirect the QR Code to is there, make sure the language is on top of all other lanuages. If the the language is not displayed in the list, add the missing language and move it to the top. Then call the short URL of the QR Code in the brower. You might have to restart the browser first to apply any changes.

To test the language that is sent by the browser open the network tab in the browser's inspector and click on request of the short URL. You will set the details of the request on the right.
Now search for the Accept-Language Header. The first language displayed is used for the redirection process. In the screenshot below you can see that Spanish is the prefered language.