Domain Masking
How do I setup my own domain in my White Label account?
3 Minutes
10/18/2022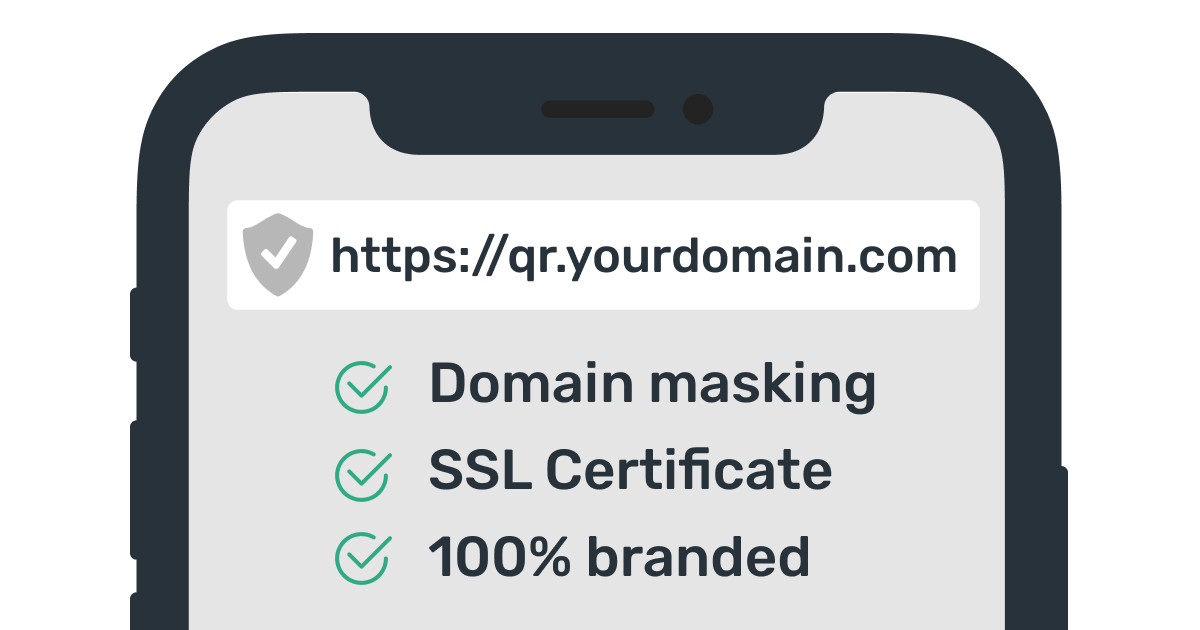 Summary
Using your own domain is probably to the main reason why a company goes for a White Label account. For technical and security reasons, this will require some setup in your DNS settings.

How do I set up my own subdomain?
1. Create a CNAME entry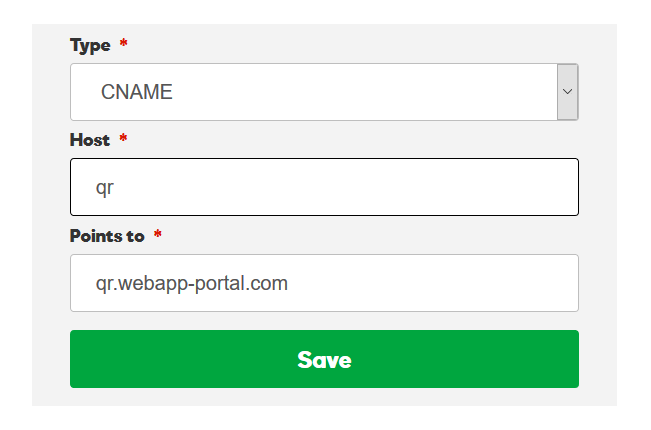 First choose a subdomain e.g. qr.mydomain.com under which your platform will be available to your users. Now create a CNAME entry for your chosen subdomain pointing to qr.webapp-portal.com. Depending on your provider you may need to create the subdomain before adding the CNAME entry. The following list explains how to create a CNAME record for different registrars:

2. Login into your account an navigate to Branding > Production Domain
Log into your white label account as admin user. Click on Branding in the main menu and go to the section Production Domain

3. Enter your custom subdomain as "Production domain"
Now enter your chosen subdomain in the input field Production Domain. If the CNAME record was set successfully your domain will be saved when you click on Set Production Domain. Please note that it may take up to 24 hours for your DNS settings to be globally propagated.
How to verify your CNAME record
Since it takes some time until the CNAME entry is globally available on all name servers, you can check the propagation of your subdomain with whatsmydns.net. This website lets you instantly perform a DNS lookup to check your subdomain DNS record information against multiple nameservers located in different parts of the world. Another expert tool for checking your CNAME record is digwebinterface.com 
Custom domain for extra users
Now that you have learned how to globally set a production domain for your white label platform you can do the same for individual users. To do so click on Users in the administrator menu. Now click on the pencil of the user you want to assign a custom subdomain.

Navigate to Production Domain in the user settings and enter the subdomain. If the CNAME is correctly propagated the domain will be saved when you click on Set Production Domain.
Additional Settings
Set a Short URL Root Domain
If you want to set a root domain for your Short URLs, most internet registrars will not let you create a CNAME record for your root domain. Instead, you might want to use an A-record pointing to the IP 213.208.153.152.

Please note that our IP address might change over time. However, we will inform you, when we will change the IP address in advance, so you will have time window where both - the old and the new IP will work.
Unset your Cloudflare Proxy
If you are using Cloudflare please un-proxy your custom domain first. Otherwise, your CNAME record will not point to our servers. You can do this by going to your DNS-Settings and editing the subdomain. In the example below we use "test" as subdomain.
Once the subdomain expands click on the orange proxy icon. It will turn gray and the proxy will be disabled. Now you can set the custom domain in your branding section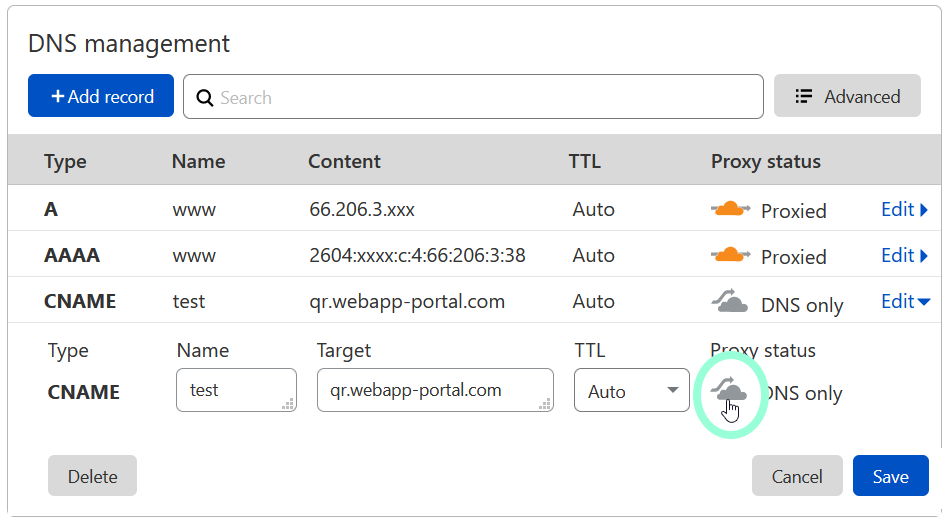 Cloudflare SSL: Avoiding redirect loops
Browsers typically display error messages when redirect loop errors occur, such as ERR_TOO_MANY_REDIRECTS. The typical cause of a redirect loop error is when Cloudflare SSL options are incompatible with your origin web server's configuration.
Please update the Cloudflare SSL option in the SSL/TLS settings in the Overview tab:
If currently set to Flexible, update to Full if you have an SSL certificate configured at your origin web server.
(Not Recommended) If currently set to Full, update to Flexible.
Source: Cloudflare Support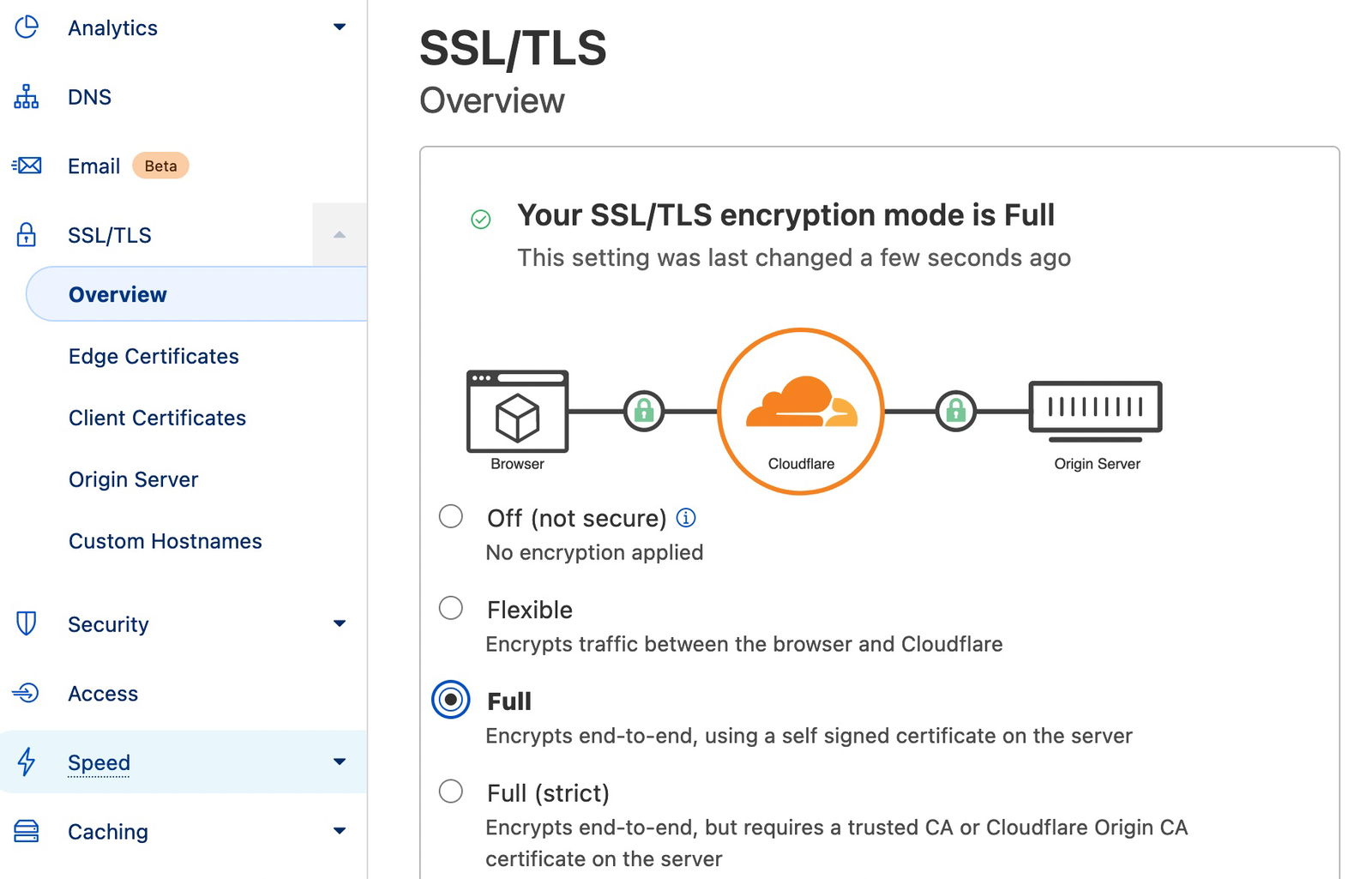 Additional CAA record for SSL Certificate
Once you successfully setup your custom domain, we will add an SSL-certificate to your domain within the next 48 hours. Our SSL certificates are issued through letsencrypt. Some registrars/hosting providers may require whitelisting Certificate Authorities to issue certificates for your domain. If your certificate is not active 24 hours after you sign up, you will need to create a CAA record on your DNS entries: