Spotify QR Code
5 ways to promote your music on Spotify with QR Codes
2 Minutes
11/17/2022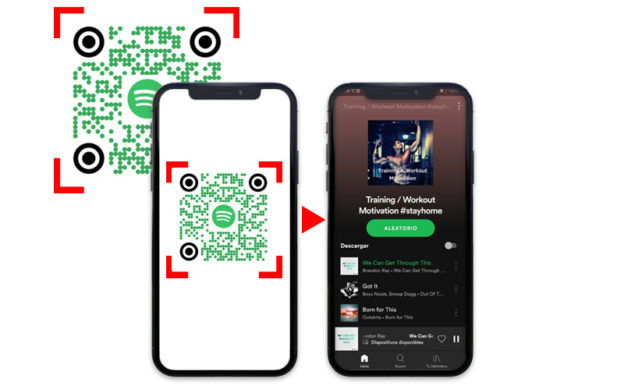 Spotify is probably the most popular global audio streaming service with 271 million users. No matter if you are a professional or amateur musician, you can use the platform to stream your music worldwide. Your audience can literally listen to any of your songs, anywhere and anytime on their smartphones.
Even though music distribution is not a problem anymore, you as DJ, band, manager or institution still have to promote your work to make a living and QR Codes can be a useful asset to do it, especially in the offline world.
How does music sharing on Spotify work?
Both the desktop and mobile Spotify App allow you to create a "Shared URL" so you can share and post specific albums, songs or even playlists. Usually, these links are posted on social media publications, through email, WhatsApp messages or published on websites through Spotify Widgets.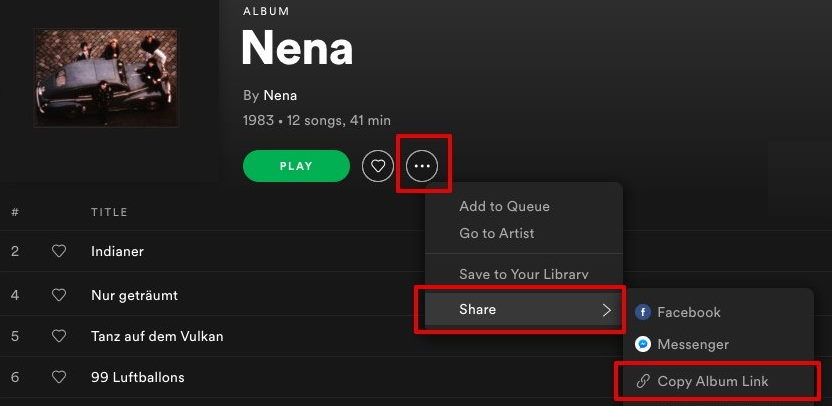 These use cases take place online only, but what if I want to tell someone to access your new album in the realworld? You would share a long URL like this Spotify-URL for example. This is when QR Codes can become handy and instead of typing the URL your fans just scan the QR Code.

How do I create a Spotify QR Code?
With the sharing URL you can now proceed to create a dynamic QR Code to link to your music. With a dynamic QR Code on the one hand you can track how many fans scanned your QR Code. On the other hand, you can change the URL in the future, when you want to promote another album or song using the same QR Code.
If your fans have the Spotify App installed the QR Code will deep link them in the app to your song, album or artist page directly. The following video shows you how to create a Spotify QR Code

How can I use Spotify QR Codes to promote my content?
Once you have created and designed your QR Code like shown in the video above, you can place the QR Code in the real world to boost your Spotify presence.
On Concerts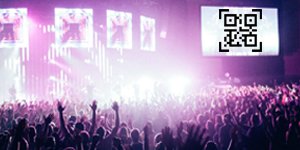 You can paste the QR Code on displays, poster boards, projections, etc. as part of your scenography to have your audience interacting with your online presence while they are in the concert. As an example you can display Social QR Codes or your Spotify QR Code before and after the show to have your audience engaging with your online presence.
For DJs on turntables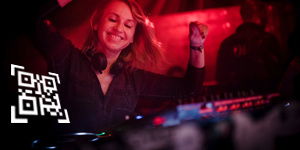 As a DJ, you usually get asked about the music you are playing. If you want to share your influences or offer an easy way to contact you, placing a QR Code in your DJ area is a good and stylish way to do it.
You can also share your contact data on a QR Code Business Card and add a link to your Spotify profile.
On stickers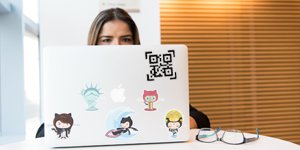 Create your own stickers with a QR Code linking to your favourite playlist. It will be the easiest way to share your music preferences with your friends or coffee neighbours.
On T-Shirts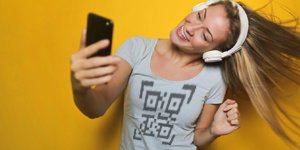 Design QR Codes and T-Shirts are also a very visual way to promote your music or share your playlists. However, you should take it more as a fancy branding action because reading a QR Code on a T-Shirt can be hard (movement, wrinkles, shades, hair, etc.)
Contextual playlists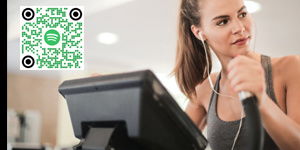 Gyms, bars, museums, exhibitions, and many other places can offer a music selection to their visitors or customers to inspire or motivate them. The user only needs to scan a QR Code to enjoy the playlist.